Biography
"I consider art as perhaps humanity's most essential and universal language. It is not a frill, but a necessary part of communication." -unknown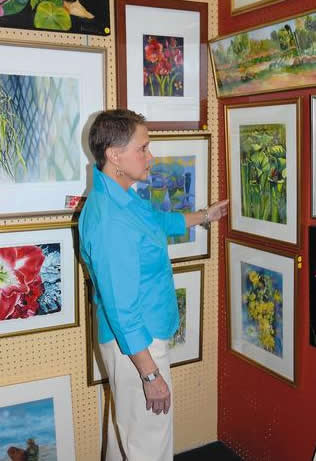 Moultrie artist Anna Carlton captures the beauty and colors of nature in her bold and vibrant watercolors. "Nature is strong in color and texture and always reveals the unexpected," says Anna. And her paintings are all about color. Watercolors, however, were not always her medium of choice. For over 30 years Anna worked with three dimensional art including clay, paper mache, pottery and collage. After several spine surgeries left her unable to endure the physical demands of 3D, Anna went looking for a new medium in which to express herself. She began to explore the intricacies of watercolors and fell in love them.
Anna grew up in Dawson into a family of amateur and professional painters. "Art is natural to me. I can't remember a time when I wasn't involved with art," she says. After receiving her degree in art from the University of Georgia, Anna married John Carlton and they settled in Moultrie, his hometown, where they raised their two daughters. Anna continued to study art and has taught art in regional art centers and in several county school systems. Since her transition to watercolors, she has traveled and studied with a number of top American watercolorists. She creates in her Moultrie Tap Roots Studio overlooking the pond and natural beauty from which she draws her inspiration.
Her watercolors have received regional and national recognition and been exhibited in numerous one person and group shows including those of the Tallahassee Watercolor Society, Georgia Watercolor Society, Southern Watercolor Society, Georgia Artists with Disabilities and the 2008 Women of the Pen Exhibit, Atlanta Branch. Anna has earned signature status in the Tallahassee and Southern Watercolor Societies. Her work was included in the Paint America Top 200 and Paint the Parks Top 100 in America traveling exhibits and, most recently appeared in Art Collector Magazine and in the North Light Books publication Splash II: New Directions.
Anna describes her painting as an expression of her inner self and her reaction to the natural world. "It comes from my heart," she says. "I usually choose nature's subjects. I find them to be perfect and honest designs in themselves. My paintings sometimes begin with an image and other times with a pour of paint. I'm fascinated by the process of the water on the paper as the pigments mix, the interplay of the intended and the random. From there I look for energy and attitudes with color and pattern in mind. I'm not interested in the perfect bloom or image but in showing a hint of the metamorphosis of an image or reflection. I'm looking for new possibilities in texture, light, color and contrast. Skill is an important aspect of my work but the most vital element for me is the discovery process."
Anna's work is currently exhibited in several galleries and corporate collections. It can also be viewed online at www.annacarltonart.com.
Galleries
| | |
| --- | --- |
| Gift Shop, Gadsden Arts Center | Quincy, Florida |
| Framing by Craft Works | Moultrie, Georgia |
| Turner Center for the Arts | Valdosta, Georgia |
| Tap Roots Gallery | Located in Market on the Square, Moultrie, Georgia |
| Prickly Pear | Mexico Beach, Florida |